Education is equipping our children to walk through doors of opportunity.
~President Lyndon B. Johnson


Young minds crave knowledge. Each child we teach to love learning will be successful in life. Beginning in Kindergarten, AHCS students are educated in three very important areas:
Academics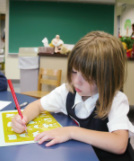 The
Core Knowledge
curriculum exposes students to a broad range of historical,
scientific, and cultural topics that build on one another from grade to grade so
students have a solid foundation on which to build for later educational
success. This wide array of subject matter will not only develop literacy, but
will also build the strong vocabulary necessary for true reading comprehension.
Visit our
Academics
page to learn about the rest of our curriculum.
---
Character Development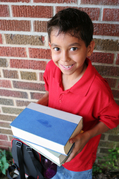 Great Expectations
is not just a description of our methodology. It is the name
of the component of our curriculum that teaches your child to be a great human
being--not just a knowledgeable one. "
Old fashioned
" values, ideals, and
principles like
please
,
thank you
, looking people in the eye, showing respect
for yourself and others—and really knowing what that means—are incorporated
into your child's daily activities. We are especially proud of the fact that
these expectations extend to our staff who demonstrates by their example how to
conduct themselves. Our students see that these principles and values apply to
adults too.
---
Patriotism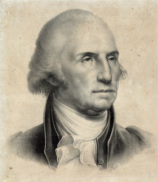 We are the American Heritage Patriots! Our school colors are red, white, and blue. When you walk into our school, you will pass quotes/sayings, photographs, and posters about patriotism. Even our core of our dress code reflects our appreciation of this country as students wear red, white, or blue.

If you visit on the designated morning, you won't find the students in their
classrooms. All students and school personnel will be gathered in the common area for the weekly, Rise and Shine Ceremony. Those assembled begin by saying the Pledge of Allegiance. This is followed by reciting our State of Idaho pledge and learning a patriotic song. Finally they are taught a word of the month, such as respect. They will learn to spell the word, define it, and implement it in their lives.


---